FÁILTE!
Welcome to Caitlín.ie
Check out Caitlín's new website of UNLIMITED concertina lessons! www.IrishConcertinaLessons.com
The New Home for Online Irish Concertina Lessons
From Starter to Advanced – Unlimited lessons on Irish concertina with Caitlín Nic Gabhann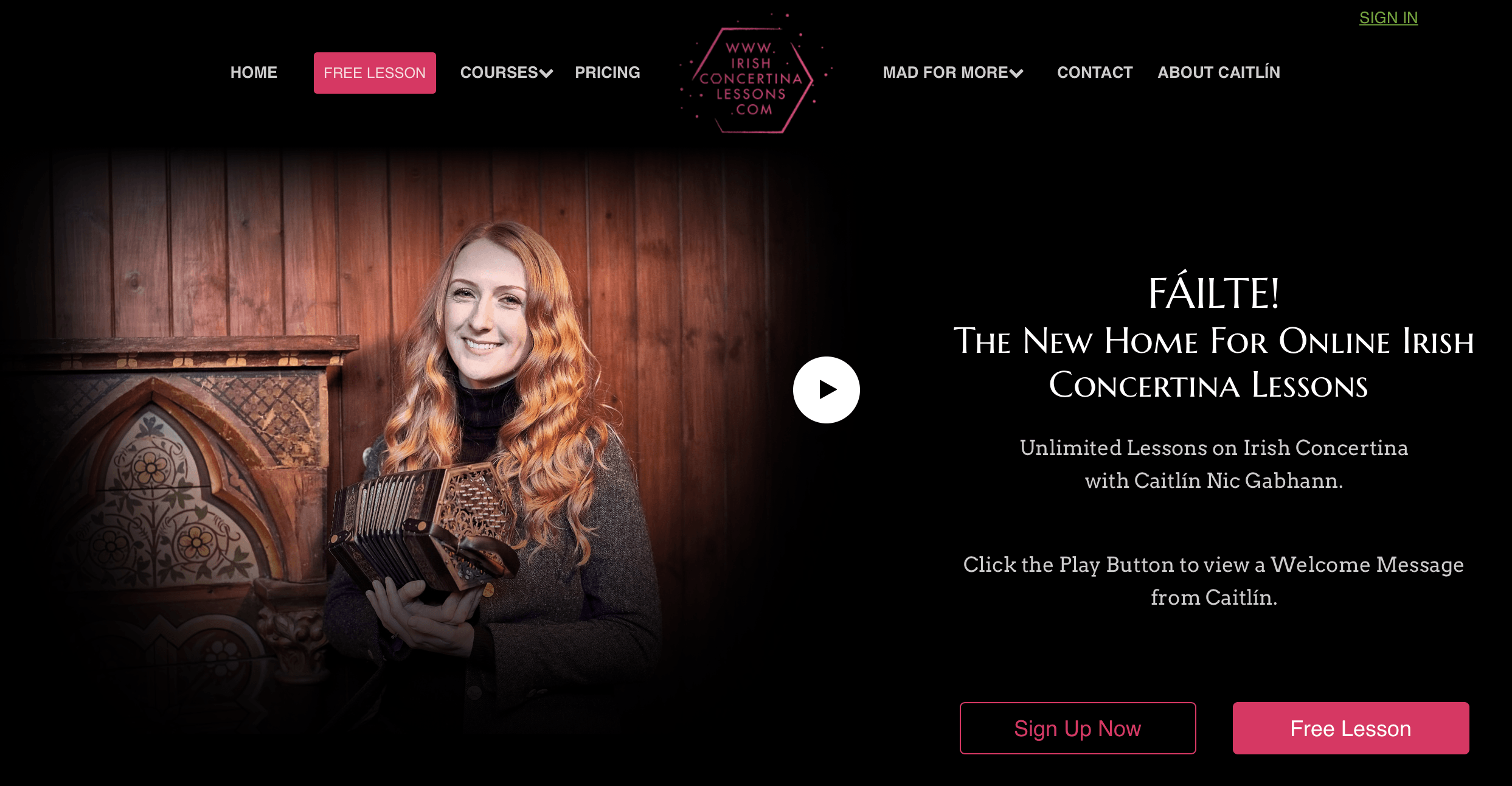 –> UNLIMITED – Unlimited access to all lessons
–> AUTHENTIC – You're learning from the source
–> YOU'RE IN CONTROL – Learn & improve in your own time, in your own home
–> PERSONAL – Contact Caitlín personally if you have a question
New CD 'Tobar Bhríde' – Antóin Mac Gabhann & Caitlín Nic Gabhann with Brian McGrath Out Now! Listen to Caitlín and her Dad Antóin here
LISTEN
'Does dance explain why the rhythm in her playing is so striking? It must be part of it.'

The Journal of Music
About Caitlín
Caitlín Nic Gabhann – concertina / dance
Caitlín Nic Gabhann is a concertina player, performer, teacher, composer and percussive dancer. Having toured for years as a dancer with Riverdance, 3 time All-Ireland concertina champion Caitlín is a regular performer at festivals and concert halls from North America to Asia over the last 15 years. Caitlín's life's work to date has been recognised with her being chosen as UCC Traditional Artist in Residence for 2022.
Raised in a house full of music in Ashbourne, Co.Meath, Caitlín learned most of her music, style and rhythm from her father Antóin Mac Gabhann. Her mother Bernie is immersed in the Clare set-dancing culture and she passed a love of this on to her children with Caitlín being her dance partner at ceilís from a young age, again heavily influencing her approach to style and rhythm. Caitlín's compositions have been performed in the Cork Opera House and The National Concert Hall, Dublin. The most well known would be the waltz
Sunday's Well
and the reel
The Leeside Sessions
, both composed whilst studying in the music department of University College Cork. They featured on her debut album 'Caitlín' which received 'CD of the Year' from
TradConnect.com
and was labelled the 'top Irish traditional album of 2012' by The Wall Street Journal.
Whilst dancing with Riverdance, Caitlín got to perform at the pyramids in Egypt as they shared the bill with Mariah Carey. As a solo dancer she was the main performer in the Celtic Christmas Sojourn in Boston and 'Ceiliúradh' in the Royal Albert Hall, London as a guest of President Michael D. Higgins. She has performed with the RTÉ Vanburgh Quartet, Paddy Keenan, Liam Ó Maonlaí and for Presidents and Royalty around the world. She also teaches concertina annually at summer and winter schools in Ireland, Europe and USA.
Today, Caitlín is married to fiddle player and documentary maker Ciarán Ó Maonaigh and they have 3 year old twins, Rosie and Frankie. From their home in the Donegal Gaeltacht she runs IrishConcertinaLessons.com, a complete online resource for concertina learning, with Starter, Improver and Advanced courses, which currently has hundreds of subscribers in 32 countries. She is also director of the Wild Atlantic Concertina Week, a week of music and local culture in Gaoth Dobhair that attracts international attendants annually.
Caitlín is a first class honours graduate of both University College Cork and Trinity College Dublin, She is also involved as musician and dancer with The High Seas, Caitlín & Ciarán, Cruinniú, NicGaviskey, Birkin Tree and The Irish Concertina Ensemble.
Selection of Compositions